Your Online Shop - Aquarium Supplies, Aquarium Products, Aquarium Accessories for your Fish Tank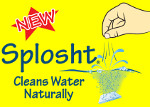 Splosht - Cleans Water Naturally (Great for Algae issues)
Splosht is a special blend of natural bacterias that do 3 things:
Splosht acts as a natural flocculent binding rubbish and sediment together dropping it to the floor naturally
Splosht then eats away at the waste and sludge at the bottom making it literally disappear
Splosht then grows and competes for nitrates and phosphates starving the algae of its food source making it die off naturally
Splosht is safe for your fish and pets
Splosht is not a toxic chemical. Splosht is organic and environmentally friendly, naturally working with your water plants keeping your water clean.
Splosht is safe for your fish, turtles, crustaceans, livestock, wildlife, bird life and your pets. You cannot overdose with Splosht!
How long does Splosht take?
Splosht starts growing straight away and about 4 weeks you will see the results. Simply keep dropping a Splosht sachet in every 2 weeks! All Splosht products last for 3 months.

Why not add to your order and save on postage.

Showmaster Natural River Stone Large 10kg
25-35mm natural river stone *** ON SPECIAL TO REDUCED CLEAR ***
AU$15.95
Was AU$19.95
Saving AU$4.00


Fish Bag 915mm x 610mm 100uM
Suitable for large fish
AU$2.50
Was AU$2.95
Saving AU$0.45


UV Light Tube Replacement 11 watt
Replacement bulb for Aqua Nova PF-30/Jebao PF-30

Rift Lake Water Conditioner Powder 500g
For African Rift Lake Cichlids
Copyright (c) 2015 The Aquarium Shop All rights reserved.