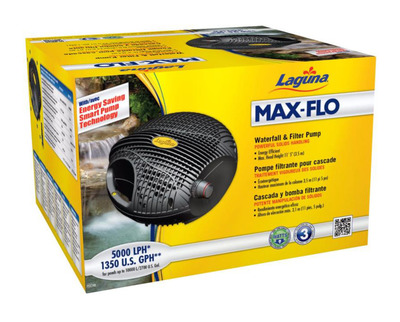 Item # LG412
Description:
Waterfall and Filter pump - 5000L/Hr (PT8240)
Features
Laguna Max-Flo 5000 Waterfall & Filter Pump is designed to circulate water loaded with moderate amounts of solid particles (or solids) and transport them to suitable external filter systems (including pressurized filters) which then trap debris that could potentially pollute pond water, effectively filtering the pond.
 Max-Flo is ideal for use with filtration systems and for creating waterfalls and watercourses. Easy to install and operate, the pump is completely submersible and engineered to run continuously.
 Max-Flo 5000 is intelligently managed by Laguna's next generation Smart Pump Technology (SPT), a major technical advancement that further improves pump performance, energy efficiency, and user friendliness. SPT is an internal self-regulating system that tracks power consumption, hydraulics, and impeller direction to ensure powerful output and energy efficiency, so that only the required amount of power is used to operate the pump efficiently.
 The pump is powered by a magnetic-driven motor that is unmatched in the market for its ability to generate powerful and continuous water flow while consuming minimal electricity-the perfect combination of high pump efficiency and low energy costs. This is great news for people who are wary of costly hydro bills.
 The pump is also easy to assemble, thanks to an enhanced cage design. In addition, it now has stunning yellow colour accents that improve pump aesthetics.
 Max-Flo 5000 can handle solids up to 6mm in size.
 The pump is manufactured in Italy and guaranteed for 3 years.

Energy efficient
Power solids handling
Max head height 3.3m
Suitable for Ponds up to 10000 Litres
3 year guarantee
5 m electrical cord.
Power consumption: 65 watts, 0.9 Amps
240 volts
Features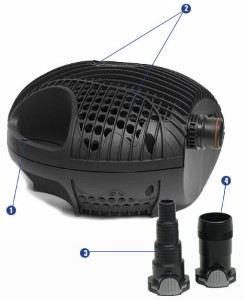 1 - Easy to carry handle
2 - Delivers solid particles up to 6mm directly to the filter
3 - Universal Fast Coupling for 3/4", 1" & 1-1/4" diameter hosing.
4 - Fast Coupling for 1-1/2" diameter hosing
Installation example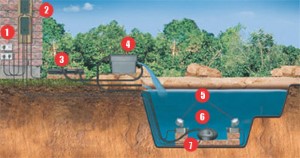 1 - Electrical Outlet
2 - Transformers
3 - PowerClear UV Sterilizer / Clarifier
4 - PowerFlo External Filter
5 - PowerFlo Light
6 - Max-Flo Pump
7 - Non-Kink Hosing
AU$321.25
Earn 3212 points with this purchase
Copyright (c) 2020 The Aquarium Shop All rights reserved.