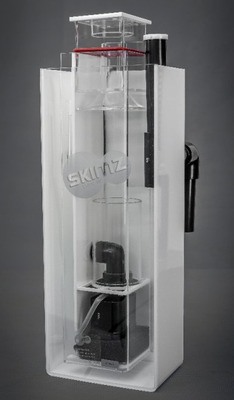 Item # SH2
Description:
Suitable up to 200 litres
Manufacturer:
Skimz
Features
The Skimz Monzter SH2 Protein Skimmer is a hang on (HOB) single pump model for smaller aquariums up to 200 litres.
The Skimz Monzter SH2 is actually the Skimz Monzter SH1 with an extra unit for a bit more capacity making it an external skimmer.
Fitted with SAP1200 needlewheel pump
SH2 draws an air intake of 340 litres per hour.
Low energy consumption, coupled with high air intake, makes the SH2 an excellent nano model skimmer.
The SH2 should be provided with water from the aquarium from a separate feed pump.
Skimmer pump: SAP1200 needlewheel pump.
Power consumption: 7 Watts
Air intake: 60 l/h
Feed pump: 1500 l/h
L 150 x W 95 x H 420 mm
Feed inlet diameter (mm): 12/16mm Flexible hose.
Return outlet pipe diameter (mm): 22mm
Skimmer body diameter (mm): 160mm
Suitable for aquariums up to 200 litres capacity.
Designed to be installed hang on style (HOB).
Skimz Aquatics is completely dedicated to the study and development of the best equipment, with the aim of offering high quality products for your marine aquariums and reef at an affordable price.
This product is warranted against defective material and workmanship of the body for 2 years.
AU$229.00 (Was AU$299.95 you save AU$70.95)

Eshopps Hang-on Protein Skimmer PSK-100H
Suitable for tanks between 300 - 400 litres
Copyright (c) 2019 The Aquarium Shop All rights reserved.