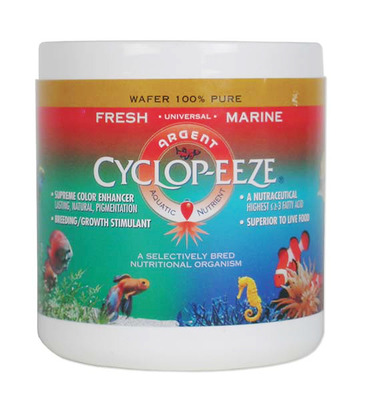 Item # CYC/W-30
Description:
Aquatic Nutrient Flake Food 100% Pure
Manufacturer:
Argent
Features
Cyclop-eeze aquatic nutrient consists of a micro-crustacean which are selectively cultured I a pristine arctic lake. The Wafers (Flakes) are a thin mono-refractance, drying at room temperature thus preserving all of the nutritive components.  
Universal usage suitable for fresh and marine aquatic species.
Fish, invertebrates and corals will all thrive when used as a daily supplement.
Supreme colour enhancer providing lasting natural pigmentation. 
Excellent growth stimulant perfect for breeders.
Superior to live foods.
Manufactured in the US.
Benefits of Daily Supplemental Feeding
Vivid, enduring colouration will be experienced by all freshwater and marine fishes, invertebrates and corals. They will quickly exhibit colours surpassing natural habitat hues.
Abundant and potent attracts incite voraious feeding.
Highest of any known species in fatty acids to ensure health thru immune system stimulation.
Enhanced growth and reproduction is also evident.
A palette of digestive enzymes ensures bio-availability and absorption of the nutrient profile of Cyclop-eeze.
Contains 100 times more Astaxantene and 40 times more Omega 3 Fatty Acid than Artemia brine shrimp.
All this saves the hobbyist, breeder, culturist and aqua farmer valuable time and money.
Feeding Instructions
Freshwater Fish - Feed daily up to 20% of the total days ration.
Marine Fish - Feed daily up to 40% of the total days ration.
Invertebrates & Corals - Feed direct or target feed up to 25% of the usual diet.
AU$24.95 (Was AU$29.95 you save AU$5.00)
Earn 250 points with this purchase
Copyright (c) 2019 The Aquarium Shop All rights reserved.