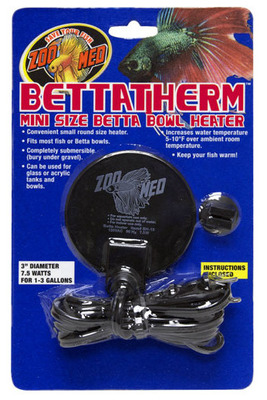 Item # ZM366
Description:
for Betta Fish (Siamese Fighter fish)
Manufacturer:
Zoo Med
Features
Note: This is the 240volt product with an Australian plug
Keeps your fish warm!
8.5cm dia disk shape.
Convenient small round sized heater.
Fits most fish or Betta bowls from around 4-10 Litres.
Completely submersible (place under the gravel).
Can be used with glass or acrylic tanks and bowels.
Increases water temperature 5-6 degrees over ambient room temperature.
Right angle cord attachment allows for easy heater placement in the bottom of the tank without straining the power cord.
AU$41.90
Earn 418 points with this purchase
Copyright (c) 2020 The Aquarium Shop All rights reserved.