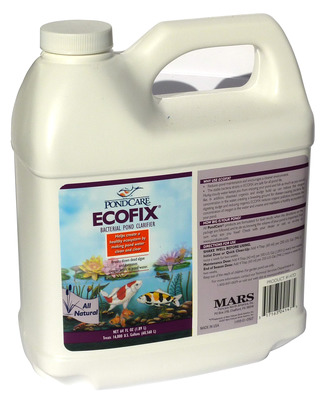 Item # APH217
Description:
Bacterial Pond Clarifier/Sludge Destroyer
Manufacturer:
Mars Fishcare
Features
Use with Algaefix to Kill the Algae and Keep it Away
Natural Bacterial Cleaner to Eliminate the Dead Algae, Clean Your Pond & Keep it Clean-Naturally
Beneficial bacteria that make pond water clear and clean, allowing you to see and enjoy your beautiful, healthy fish
Increases the concentration of dissolved oxygen in pond water.
Helps create a healthy ecosystem for pond fish.
Can be used in ponds containing salt.
Treats up to 60,480 Litres.
AU$90.90
Earn 909 points with this purchase

Aquarium Pharmaceuticals API PondCare EcoFix 473mL
Bacterial Pond Clarifier/Sludge Destroyer
Copyright (c) 2019 The Aquarium Shop All rights reserved.