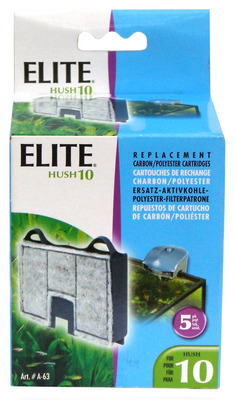 Item # PF32b
Description:
5 pack (A-63)
Manufacturer:
Hagen
Features
Replacement carbon/polyester cartridges.
Suitable for the Elite Hush 10 Hang-on filter.
5 replacement cartridges.
The fine filtration pad polishes aquarium water while the activated carbon removes discoloration and odors.
The easy to use disposable cartridges should be replaced monthly(never replace all filter inserts at the same time in order to ensure constant presence of benificial bacteria).
AU$11.80
Earn 118 points with this purchase

Elite Hush 5 Filter Carbon Cartridges
5 pack (A-53)

Elite Hush 20 Filter Carbon Cartridges
5 pack (A-73)
Copyright (c) 2020 The Aquarium Shop All rights reserved.