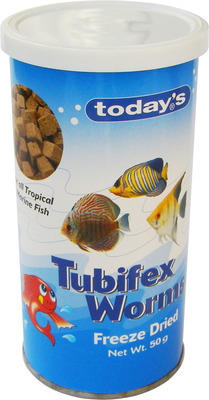 Item # TT050
Description:
Freeze dried fish food (N-TW-50)
Manufacturer:
Today's
Features
Today's Freeze Dried wild caught Tubifex Worms.
New pop top.
Today's unique food is actually tubifex worms processed by the new freeze dried technique.
Removal of moisture under vacuum at sub zero temperature.
This process preserves the excellent nutritional factors of live Tubifex worms and also preserves their flavour.
Just like real worms.
Without all the fuss and bother.
In cube form.
Excellent for all varieties of Tropical Fish, Gold fish, Marine fish and turtle.
No refrigeration required.
Keep sealed when not in use.
Made in Taiwan.
AU$15.15
Earn 152 points with this purchase

Todays Tubifex Worms 15g
Freeze dried fish food

Todays Tubifex Worms 30g
Freeze dried fish food
Copyright (c) 2019 The Aquarium Shop All rights reserved.