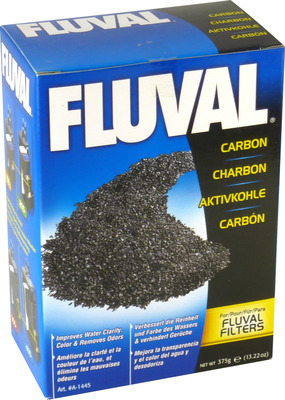 Item # FA17
Description:
(A-1445)
Manufacturer:
Hagen
Features
Improves water clarity, colour & removes odours
Premium select media for use in Fluval Canister Filters,Ideal for all filters.
Premium research low-ash carbon
Highly porous and absorbent to last longer
Does not raise phosphate levels
For freshwater and marine environments
Fluval Carbon provides large amounts of surface area for adsorbtion of impurities. It effectively removes heavy metals,odors,discoloration,organic contaminants,and pollutants,to leave your aquarium water crystal clear and sparkling.
Fluval Carbon suitable for Fluval canister filters 103/104/105,203/204/205,303/304/305 and 403/404/405 and FX5.
AU$10.70
Earn 107 points with this purchase

Fluval Carbon Filter Media 300g (3 x 100g Bags)
(A-1440)

Fluval Carbon Filter Media 900g
(A1447)

Fluval Carbon Filter Media 1650g
(A1448)
Copyright (c) 2019 The Aquarium Shop All rights reserved.