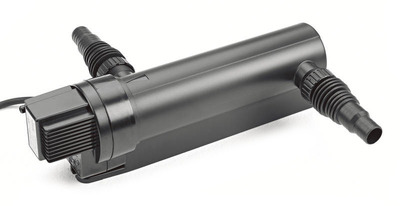 Item # 22468
Description:
Aquarium/Pond UV Clarifier
Features
OASE Vitronic 11 watt Ultra Violet Clarifier - Highly effective against suspended algae, bacteria and germs.
OASE's new range of Vitronic UVC's provide the best of both worlds, OASE quality at a mid range price. 
The Vitronic clears water by eliminating suspended algae (green water) as well as eliminating pathogens and bacteria helping fish health and improving water quality. Can be combined with almost all off the shelf filters
Includes high impact housing and a visual function check.
Features
Suitable for ponds up to 10000 Litres (with Fish 5000 Litres, Koi 2500 Litres)
Elimination of suspended algae (green water)
Reduction of harmful bacteria and pathogen level
New: Direct installation on the BioSmart
Visual function check of the UVC bulb
Quick release for easy bulb change and cleaning of the quartz glass
High quality workmanship with impact resistant plastic housing
Easy installation thanks to an extensive range of connection accessories
Includes high quality UVC bulb
100 % VDE-certified safety; does not cause eye injuries
Maximum flow 1700 L/Hr
Maximum operating pressure 0.5 bar
Hose connections: 20 - 38mm
3m connection cable
Dimensions 33 x 12 x 10cm (without hose connectors)
2 Year Warranty
AU$199.95
Earn 2000 points with this purchase
Copyright (c) 2020 The Aquarium Shop All rights reserved.