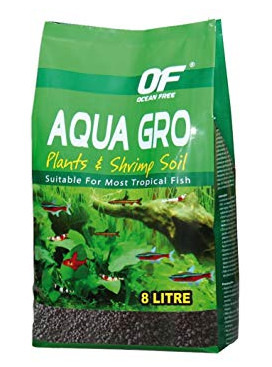 Item # OFC09
Manufacturer:
Ocean Free
Features
Ocean Free Aqua Gro soil and Shrimp Sand, is a substrate specially developed for aquatic plants and shrimps that need specific nutrients for growth.
It is all natural and highly recommended for enthusiasts who want to grow their aquatic plants and shrimps well.
Aqua Gro is produced using a special formulation which assists in lowering the PH and KH of the water in a short period of time and at the same time maintaining it.
As a result, it creates a natural water environment suitable for the aquatic plants and shrimps. In addition this soil/sand produces great stabilizing qualities for the general well being and balance of your aquarium.
In addition, the natural conditions created by Aqua Gro Soil makes it suitable for most tropical fishes too.
Key Features:
Aquarium Plant and Shrimp Soil
Suitable for most Tropical fishes
Specially developed for growing aquatic plants
Assist in lowering PH and KH levels
Contains fish tank balancing qualities for improved water conditions
Available in 2 sizes 3L - approx 2.5kg and 8L - approx 6.6kg
Instructions:
Pour Aqua Gro Soil into the aquarium before topping up with water. Prewash of the substrate is not necessary.
Gradually fill up the tank with water taking care not to disturb the substrate (HINT: lay a plate or plastic bag on the substrate and slowly fill with water on top of this, to avoid disturbing the substrate).
Aqua Gro may contain fragments of plants and/or wood. This does not affect the water quality and floating fragments can be skimmed away with a net.
During initial setup, you may see the water turn cloudy. Your filter will clear this within 24 hours. If it is still cloudy after this, use a finer filter wool.
An undergravel filter is NOT recommended for growing plants.
Cautions:
Aqua Gro Soil can lower pH and kH on its own. Do not use together with other substrates.
Store in a cool and dry place.
Do not use for plants and shrimp that prefer alkaline water parameters.
Keep out of reach of children.
If the soil gets into the eyes, rinse immediately and consult a doctor.
AU$56.55
Earn 565 points with this purchase
Copyright (c) 2020 The Aquarium Shop All rights reserved.