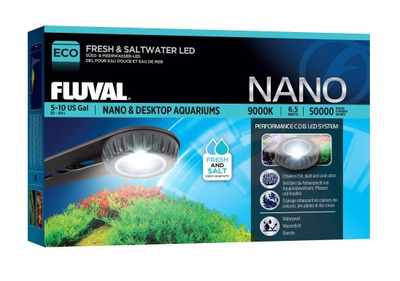 Item # FLED34
Description:
Enhance colour in your aquarium with this LED lamp (A3974)
Features
Designed for nano and desktop aquariums, the Fluval Nano Fresh & Saltwater LED Lamp enhances fish, coral and plant colors in fish-only marine tanks, or plant and coral species that require lower light levels in a nano tank environment.
Enhances fish, coral and plant colors
Featuring C.O.B (Chip-on-Board) LED technology: higher energy efficiency, better spectral performance, greater light output
Designed for nano and desktop aquariums up to 40 L (20 US gal.)
Can be used on both rimless and aquariums with top frames (max frame height: 30mm / 1 1/8")
120 degree light dispersion for full area coverage and uniform lighting
German Engineered
For Fresh and Saltwater aquariums
Specifications:
Lamp Dimensions: 6.3 cm diameter (2.5 inches)
Watts: 6.5
Lumens: 290lm
Colour Temp: 9000K
Total LED Count: 14
Lifetime hours: 50,000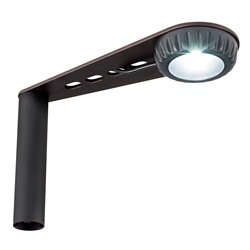 AU$179.95
Earn 1800 points with this purchase
Copyright (c) 2019 The Aquarium Shop All rights reserved.