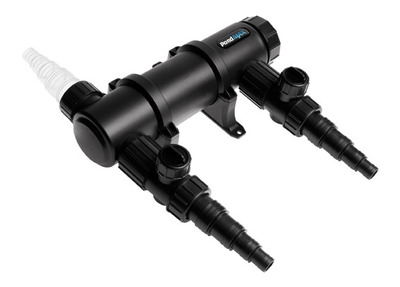 Item # 03PU091
Description:
Aquarium/Pond UV Clarifier
Features
Pondmax UV Clarifiers will provide maximum clarity and ensure healthy conditions in your pond or aquarium.
Water passes through the UVC and is exposed to the ultra violet light which destroys algae and bacteria, achieving crystal clear water within 14 days. Use with biological filter. Features a safety shut-off switch for globe replacement.
Features
Integral flow control and bypass outlet
Effective for suspended algae
Anti-twist cable connection
360 degree swivel outlet
Specifications
Cable Length: 10m
Max Pond Size Without Fish: 18000L
Max Pond Size With Fish: 9000L
Model: PU18W
Max Flow: 8000L
UVC Size:  18W
AU$219.95
Earn 2200 points with this purchase
Copyright (c) 2020 The Aquarium Shop All rights reserved.