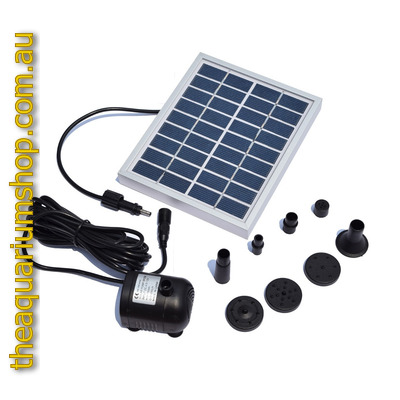 Item # TASSLR2W
Description:
Eco-friendly option (SP002A)
Features
Features:
Solar panels directly drive the fountain in the sun.
Brushless DC water pump, pump water easily.
The solar pump will start automatically in 3 seconds when bright sunlight shines on the solar panel directly without any shadow.
Low carbon, environmental friendly and save water.
3 different water outlet caps.
CE RoHS testing approval.
Keep the soil wet and provide a cool environment.
Suitable for bird bath, fish tank, small pond, garden decoration, water circulation for oxygen, etc.
Product Performance:
The pump is driven directly by the sunlight. So it will work continuously only when the sunlight is enough. As the power of the solar panel is depended on the sunlight, the pump is also affected by weather, seasons, places, etc. 
Don't make the pump work without water for a long time, or its lifespan will be shortened.
Don't put the solar panel and the control box in water, or it will be damaged.
Clean the pump regularly. If it's dirty, it will stop working.
The solar panel is made up of glass and metal. You must be careful when using it.
The moment that the pump starts to work, its spray height will be higher than the normal range and it will return to normal after 3-5 seconds.
Method of Operation:
Assemble the product according to the sketch map of the instruction. Then set it on the places where the solar panel is not sheltered from the sun.
Turn on the switch, the pump will work normally as soon as the sunshine is enough.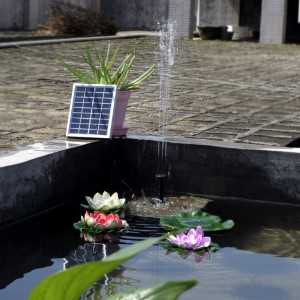 Specifications:
Solar Panel: Mono-crystalline 9V / 2W
Maximum Water Height: 60cm
Brushless Pump Input: DC 4.5-12V
Maximum Quantity of Flow: 200L/H
Maximum Lift Head: 150cm
Solar Panel Size: Approx. 150 x 125 x 29mm
Package List:
1 x Solar Panel
1 x Brushless Water Pump with Power Wire
3 x Water Outlet Caps
5 x Accessories
1 x User Manual
AU$49.95
Earn 500 points with this purchase
Copyright (c) 2020 The Aquarium Shop All rights reserved.