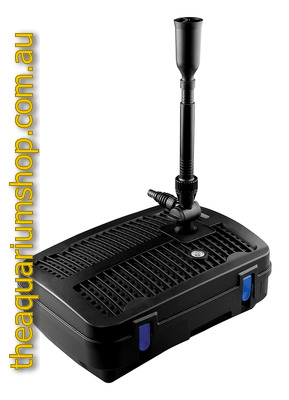 Item # 03PF312
Description:
Max Flow 2200L/Hr
Features
The PondMAX All In One 2600 has been manufactured with advanced technology to provide you with the best quality filter for your pond and waterfeature.
Compact, submersible filter requires no complicated plumbing for dramatically simple filter installation. Built-in UV clarifier enhances pondwater clarity by combating green water algae for beautiful, crystal clear water.
Features
Combined UV-C clarifier, pump and fountain system
12v Low Voltage system
Suitable for small ponds and water features
Includes fountain kit
Easy to install
Specs:
Cable Length:10m
Inlet/Outlet Size: 20mm
Max Pond Size without fish: 4000L
Max Pond Size with fish: 1000L
Model: All In One
Max Flow: 2200L/hr
Size: 370 x 260 x 120mm
UVC Size: 11w
AU$359.95
Earn 3600 points with this purchase

AquaPro 1000 All-in-one Pump and Filter System Small
Max Flow 1000L/Hr

AquaPro 2000 All-in-one Pump and Filter System Medium
Ideal for medium garden ponds up to 2x1.5x0.5m. Max Flow 2000L/Hr
Copyright (c) 2019 The Aquarium Shop All rights reserved.