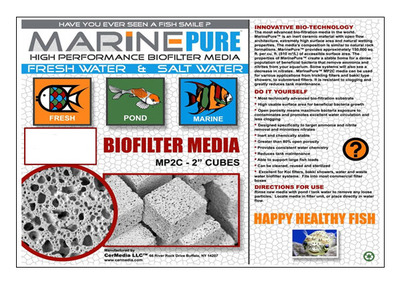 Item # TASMP2C
Description:
Size may vary and be irregular. Price is per 1 piece. High Performance Biofilter Media great for sumps, extra larger filters and shower filters
Manufacturer:
CerMedia LLC
Features
Fresh, Pond and salt water
Designed to target ammonia and nitrate removal
Inert and chemically stable
Provides consistent water chemistry
Reduces tank maintenance
Able to support large fish loads
Can be cleaned, reused and sterilized so are very long lasting
2-inch cubes specifically designed for the high flow of koi and goldfish ponds and recirculating aquaculture systems. One cubic foot is good for 1,500 to 2,000 gallons of water.
Surface are 2150 m2
Made in USA

Thin Bio-Film Technology: Combination of vast surface area and open-flow interconnect­ed pores facilitates development of a thin bio-film. The thin bio-film allows beneficial bacteria to flourish by making nec­essary nutrients immediately available, resulting in a healthy environment for your fish.

The most advanced biological filter media ever made!
MarinePure allows Parallel Denitrification to occur, which leads to the breakdown of Nitrates reducing Aquarium Maintenance.
The extremely high surface area of MarinePure is 10 to 100 times greater than that of any other filter media, allowing a greater volume of aerobic and anaerobic bacteria to grow in and around the material. The interconnected pores create a refugium which allows water to flow freely through the material, delivering water and nutrients to the biofilms and micro-organisms.
AU$2.75
Earn 28 points with this purchase
AU$65.95
Was AU$75.90
Saving AU$9.95

Out of stock

CerMedia MarinePure Biofilter Media Balls 1.5inch Large Sphere 1.9L
High Performance Biofilter Media

CerMedia MarinePure Biofilter Media Balls 1.5inch Large Sphere 3.8L
High Performance Biofilter Media
Copyright (c) 2019 The Aquarium Shop All rights reserved.