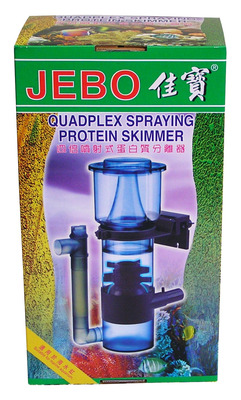 Item # JB51
Manufacturer:
Jebo
Features
This efficient protein skimmer takes advantage of whirlpool,trinal flows and its high pressure to produce numerous micro bubbles running up.
By the surface tension of the micro bubbles,protein,heavy metal elements, cellulose and other organic particles in sea water are powerfully absorbed.
As a result,the water can be purified and added with oxygen.
It is four times the efficiency of common protein skimmer.
This product can be coorberated with ozone generator.
Applying oxygen spray, whirlpool, trinal-layer flow control and squeezing methods to seperate organic articles thoroughly.
Bilateral and flexible bracket providing cupula and screws fixing options, suitable for different kind of aquariums.
Two curved foam outlet releasing foam faster.
Deliberate design, beautiful appearance and practical performance.
It can be used together with dripping sink outside the aquarium.
You can get better effect when using it together with a force pump/power head of 1500 L/hr or more such as the Aquaclear 70 (The internal diameter of the water intake is 18mm however you may need an additional small piece of tubing around 25mm dia to connect the powerhead to the skimmer depending on the size of the powerheads outlet tube).
12 month warranty.
Made in China.
AU$69.35
Earn 694 points with this purchase
Copyright (c) 2014 The Aquarium Shop All rights reserved.