Fish Food /
New Life Spectrum Algaemax Wafers (H20 Stable Wafers) Fish Food 600g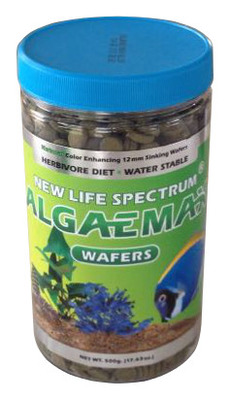 Item # 81432
Description:
Natural Algae Enriched 12-12.5mm Wafer - For all sized fish
Manufacturer:
New Life
Features
New Life Spectrum AlgaeMax fish food.
Natural Algae enhanced 12mm sinking wafer.
Includes large quantities of a wide variety of natural algae and seaweed.
Perfect complete diet for herbivore species.
Slow dissolving tablets, great for fry, grazing species and nocturnal freshwater and marine fish.
Spectrum high density, high nutrition formula can maintain colour and vitality in all types of tropical aquarium fish.
Suitable for both marine and freshwater tropical fish.
Made in the USA.
AU$69.95
Earn 700 points with this purchase
Copyright (c) 2019 The Aquarium Shop All rights reserved.