Fish Food /
New Life Spectrum Nutri/Cell Fish Food 40g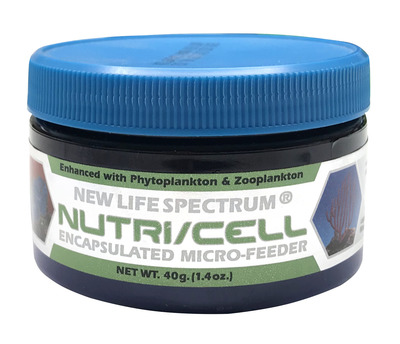 Item # 80204
Description:
Encapsulated Micro-Feeder Enhanced with Phytoplankton and Zooplankton
Manufacturer:
New Life
Features
New Life Spectrum Nutri Cell formula.
Encapsulated Micro- Feeder.
Enhanced with Pytoplankton and Zooplankton.
Capsulated food designed for filter feeders.
Completely water stable.
80% of the microcapsules are under 50 microns.
Microparticles of food suspended in a nutrient rich, water stable bead simulates real plankton.
Stable structure means less nutrient loss into water and less pollution.
Capsules stay in water column for much longer.
Great for plankton feeding marine invertebrates and SPS corals.
Complete Spectrum nutrition formula for vitality and colour.
Size: 10-80 microns
No refrigeration needed.
Made in the USA.
AU$35.35 (Was AU$36.25 you save AU$0.90)
Earn 354 points with this purchase
Copyright (c) 2019 The Aquarium Shop All rights reserved.