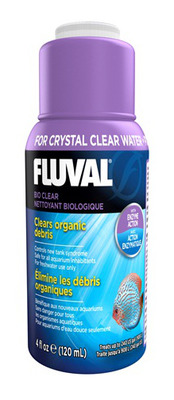 Item # FLS31
Description:
Organic Water Clarifier treats up to 908 Litres (A8367)
Manufacturer:
Hagen
Features
Clears organic debris
Controls new tank syndrome
Safe for all aquarium inhabitants
For freshwater use only
Fluval Bio Clear contains fast-acting enzymes that naturally clarify cloudy aquarium water. Its biological formulation effectively clears cloudy water by rapidly consuming free floating organic food sources, proteins and other organic elements. Bio Clear is recommended for clarifying cloudy water caused by new tank syndrome, excess food, organic waste and decaying plant material.TIP: To prevent cloudy aquarium water and reduce maintenance, use Fluval Biological Cleaner regularly.
Dosage: 5 mL treats 38 L
AU$10.35
Earn 103 points with this purchase
Copyright (c) 2020 The Aquarium Shop All rights reserved.