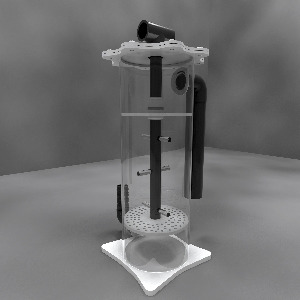 Item # ZM150
Description:
Suitable Up to 2000 litres
Manufacturer:
Skimz
Features
The Skimz ZM150 Zeolith Reactor utilizes the probiotic based approach which allows you to have more control over your water chemistry, vital to the growth and colouration of corals, especially SPS corals.
Zeolith-based probiotic reactors have become a popular form of filtration over recent years. Utilizing the nutrient processing traits of selective strains of bacteria as well as a substrate that meets their metabolic needs.
A Zeolith-based probiotic reactor effectively creates Ultra Low Nutrient System (ULNS) resulting conditions that replicate natural reef environments in home reef aquariums.
Probiotic methods require a good protein skimmer for effective use.
The Skimz ZM150 Zeolith Reactor is ideal for aquariums up to 2000 litres.
Reliable and functional design
Chamber diameter of 150mm.
Dual chambered agitators to eliminate jamming and reduce wear.
High precision CNC machined parts
Top quality Georg Fischer piping fittings.
Feed pump flow rate: 1800-2000lph.
Dimension: L 182 x W 220 x H 465mm
This product is warranted against defective material and workmanship of the body for 2 years.

AU$239.95 (Was AU$299.95 you save AU$60.00)
AU$190.00
Was AU$249.95
Saving AU$59.95


Skimz Zeolith Reactor ZM120
Suitable Up to 1000 litres
Copyright (c) 2020 The Aquarium Shop All rights reserved.