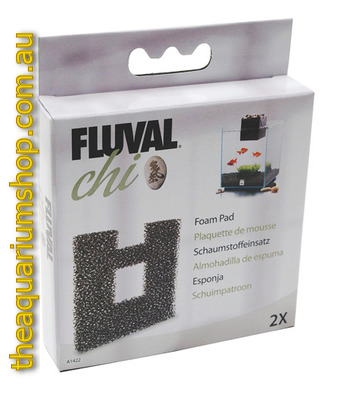 Item # CHI04
Description:
Aquarium Filter Media (A1422)
Features
Pack of 2 for Fluval CHI 19 and 25 Litre aquariums
Fluval Chi Foam Pad captures excess particles and debris, plus it supports the growth of nitrifying bacteria for a healthy and clean environment.
This replacement pad is exclusively for Fluval Chi aquarium filters, 19 Litre (5 U.S. gal.) and 25 Litre (6.6 U.S. gal.) sizes. Includes 2 foam pads.
AU$3.35
Earn 33 points with this purchase

Fluval CHI Aquarium 25L
(10508) *** PRICE IS FOR LOCAL PICKUP GOLD COAST QLD. DELIVERY TO BRISBANE/GOLD COAST REGION CONTACT US FOR A QUOTE ***
Copyright (c) 2019 The Aquarium Shop All rights reserved.