Fish Food /
Hai Feng Aqua Magic Discus Bits 70g Excel Food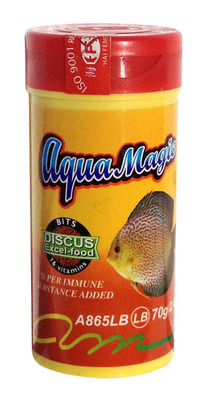 Item # HF11
Description:
(A865LB). 16 Vitamins
Manufacturer:
Hai Feng
Features
Floating bits are large will sink slowly.
Suitable for Discus or other small to medium tropical fish.
Uses natural colour enhancing elements such as Astaxanthin, Spirulina, Fresh Shrimps and ferment colour to help your fish develop it's natural bright colours after 14 days.
Special immune substance and multivitamins, enzymes and other important elements such as organic minerals, trace elements and special amino acids are added to ensure balanced growth in Discus and keep them disease resistant.
High quality control helps to keep a cleaner and stable water environment for your fish.
ISO9001 certified manufacturer.
Ingredients: White Fish meal, Wheat Flour, Antartic Shrimps, Soybean meal, Wheat Germ, Dried yeast, Immune Substance, Spirulina, Organic Minerals, 16 Vitamins and Natural Colours.
AU$7.65
Earn 76 points with this purchase
Copyright (c) 2020 The Aquarium Shop All rights reserved.