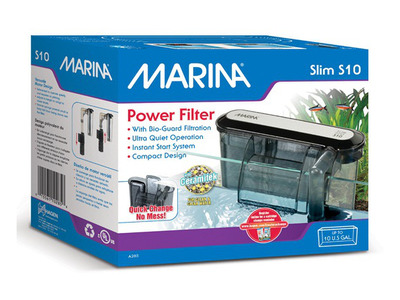 Item # SLM01
Description:
Hang-on power filter for aquariums up to 40 litres (A285)
Manufacturer:
Hagen
Features
The Marina Slim S10 Power Filter's unique compact and slim design provides both practical and aesthetic benefits: it takes up less space than standard size filters and it brings a touch of elegance to your aquarium.
The filter comes equipped with an adjustable flow control so you can adjust the water flow level in your tank. Its motor is submerged in the water and operates very quietly.
Installation and start-up is easy – no priming required. Just plug it in and watch it go! Maintenance is quick, simple and convenient.
The Power Filter includes two filter cartridges: 1 Bio-Carb and 1 Bio-Clear, both containing Ceramitek, a highly porous ceramic filter medium that optimizes biological filtration for a healthy aquarium.
The filter also includes a strainer sponge to protect small or baby fish from being drawn into the filter.
The Slim S10 Power Filter is for aquariums up to 38 litres (10 U.S. gal).
Size (hang on part only): 18cm long x 5cm wide
Size (outflow plus intake section): 11cm wide
Power usage: 4.1watts
2 Year Warranty
AU$21.65
Earn 216 points with this purchase

Marina Slim S15 Power Filter
Hang-on power filter for aquariums up to 60 litres (A286)

Marina Slim S20 Power Filter
Hang-on power filter for aquariums up to 80 litres. (A287)
Copyright (c) 2019 The Aquarium Shop All rights reserved.