Fish Food /
Hikari Massivore Delite Fish Food 380g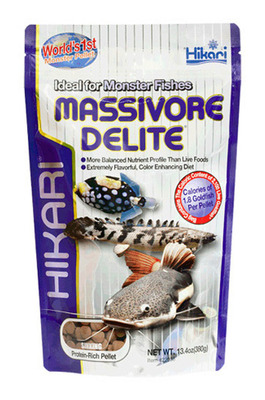 Item # KH22036
Manufacturer:
Hikari
Features
Hikari Massivore Delite
Sinking Carnivore Pellets.
Great for Bottom Feeding Carnivorous Fish.
High in palatability.
Eliminate Live Food.
Promotes healthy form and vibrant coloration.
A protein rich,complete nutritious sinking diet for Carnivarous fish.
Offering superior benefits when compared to live foods.
Speciffically developed for bottom feeding carnivarous fish offering balanced nutrition,high levels of vitamins and minerals and superior overall nutrition when compared with live food.
Developed after extensive study and analysis of the sense of sight,smell and taste of numerous carnivarous fish.
Inclusion of key ingredients likeDL-methionine and L-Lysine allowed us to produce a food most bottom feeding carnivarous fish are eager to eat.
Absorbs water and quickly softens yet,retains it shape and will not cloud your aquarium water.
Contains the highest grade of cartenoid possible derived through modern bio-technology to promote development of brilliant colors for carnivorous fish kept in an indoor aquarium.
Your fish can now look as good as you expect them to!
AU$49.95 (Was AU$64.95 you save AU$15.00)
Earn 500 points with this purchase
Copyright (c) 2019 The Aquarium Shop All rights reserved.