Rewards /
Dogit Design Gumi Dental Dog Toy 360° Clean Small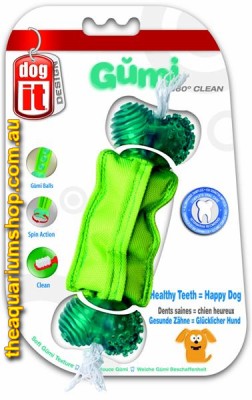 Item # GUM07
Description:
The Ultimate Dog Toothbrush!
Manufacturer:
Hagen
Features
Turn brushing time into playtime! Gŭmi dental toys help improve your dog's oral hygiene as he plays. The toys are specifically designed to help floss, remove plaque, and deep clean those hard to reach areas. Gŭmi toys are a fun, playful way to maintain a cleaner and healthier mouth.
Soothing Pouch provides relief for teething puppies and adult dogs with sensitive gums. Fill with water and freeze standing up.
Durable Nylon Ridges help remove plaque. Removing plaque is the best way to prevent tartar buildup that causes cavities.
Add treats to the treat pouch, and as the dog works to get at the treats, his teeth and gums rub against the product's surface, removing plaque buildup.
Scrubbers remove food and saliva lingering on the tooth's surface.
Soft waves gently massage and stimulate the blood flow to the gum line. Increased blood flow helps keep the gums strong and more resistant to disease.
Soft Gumi Texture encourages continuous play; exercises jaw muscles without damaging teeth.
Healthy teeth = Happy dog
AU$14.55
Earn 146 points with this purchase
Copyright (c) 2020 The Aquarium Shop All rights reserved.