Fish Food /
Wardley Weekend Feeder Original 4-Pack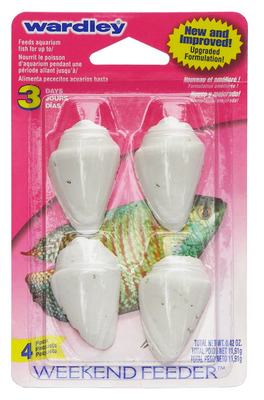 Item # W154
Description:
Holiday fish food (RM109473) *** ON SPECIAL TO CLEAR ***
Manufacturer:
Wardley
Features
Weekend Feeder feeds tropical and goldfish for up to 3 days in your community aquarium automatically
Net weight: 12.00 grams
Place the Wardley Premium Weekend Feeder shell in your aquarium prior to leaving for the weekend. It will slowly dissolve releasing small food particles impregnated throughout the shell.
One shell feeds 10-15 average-sized fish in a 40-60 litre aquarium for 2-4 days depending on the pH and water temperature.
For best results, the water temperature should be 22Celcius or higher and the pH within the range of 6.8-7.2.
NOTE: The Weekend Feeder Blocks will not dissolve properly in highly alkaline water. Since fish normally feed in daylight it is recommended that you leave the light on during your absence or connect your light to an automatic timer.
Upon your return, remove any uneaten portion of the shell and discard.
Wardley Premium Weekend Feeders must ONLY be used in fish bowls or aquariums equipped with filtration and aeration, as the water must circulate for proper dissolving of the shell.
AU$2.40 (Was AU$4.80 you save AU$2.40)
Earn 24 points with this purchase
AU$1.85
Was AU$3.70
Saving AU$1.85

Out of stock

Wardley Vacation Food Shell Original
Holiday fish food (RM105295) *** ON SPECIAL TO CLEAR ***
Copyright (c) 2020 The Aquarium Shop All rights reserved.