Fish Food /
New Life Spectrum FLOAT Extra Large Fish Formula Food 350g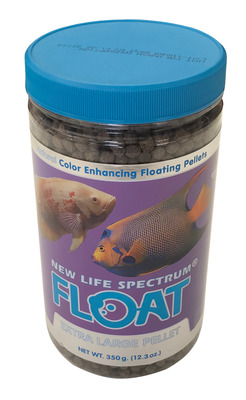 Item # 47375
Description:
NLS Hormone-Free Colour Enhancing 4.5mm Floating Pellets
Manufacturer:
New Life
Features
New Life Spectrum Fish Food not only increases the color and vitality of both freshwater and marine fish, it provides essential elements found in the natural environment that are missing from aquariums. New Life Spectrum Premium Fish Food is a Hormone-free, color enhancing formula. Spectrum food is made with high-quality easily digestible krill, fish-meal protein, and four all-natural color-enhancing ingredients for a balanced diet that boosts immune system function and enhances the full spectrum of your fish's color.
New Life Spectrum Jumbo Fish Formula.
Hormone-Free Color Enhancing 4.5mm floating pellets.
New Life Products.
High Quality,easily digestible Krill and Herring protein.
Balanced daily diet for marine and freshwater herbivore,carnivore and omnivore.
Helps boost immune system to repel parasites.
Enhances the full spectrum of your fish's color.
For best results feed New Life Spectrum exclusively.
AU$49.95
Earn 500 points with this purchase
AU$132.20
Was AU$144.95
Saving AU$12.75

Out of stock

New Life Spectrum FLOAT Extra Large Fish Formula Food 1.6Kg
Same volume New Higher Concentration Formula 4.5mm Floating Pellets
Copyright (c) 2019 The Aquarium Shop All rights reserved.