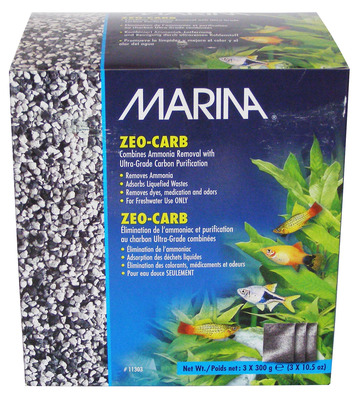 Item # APH44
Description:
3 x 300g bags (11303)
Manufacturer:
Hagen
Features
Marina Zeo-Carb combines ammonia removal with UltraGrade Carbon purification.
Removes ammonia
Adsorbs liquefied wastes.
Removes dyes,medication and odours.
For freshwater use ONLY.
3 x 300 gram bags.
Marina Zeo-Carb combines UltraGrade Carbon with just the right percentage of Ammonia Remover to protect the aquarium from build -ups of ammonia and liquefied wastes, dyes and medications.
The ammonia remover will remove ammonia released when chloramines are used in some municipal tap water systems.
The quality carbon found in Marina Zeo-Carb last longer and will not release phosphates into the water.
AU$16.40
Earn 164 points with this purchase
Copyright (c) 2013 The Aquarium Shop All rights reserved.