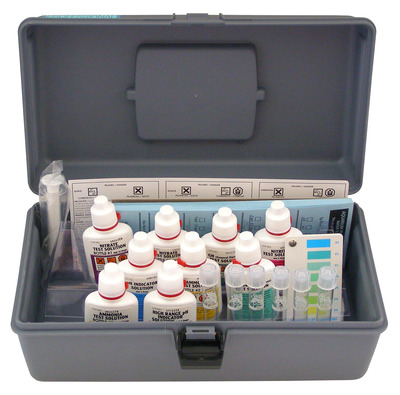 Item # APH130
Description:
Fresh and Saltwater
Manufacturer:
Mars Fishcare
Features
Professional Liquid Test Kit.
Fast, Easy-to-use and Accurate
This professional Liquid Test Kit was designed and developed for the professional aquarist and for in-store testing of Tap water, Aquarium water and Pond water.
The professional liquid testing kit for fresh and saltwater comes complete with reagents to test for pH, High range pH, Ammonia, Nitrite, Nitrate, GH and KH.
Also included in the professional kit are:
Six glass test tubes and caps.
Water analysis pad for recording test results.
Hand held color cards for each test.
Syringe to take water samples.
Sturdy plastic carrying case with tray to hold all test tubes and reagents.
The wall chart includes test instructions and color charts for the seven essential water tests included in this kit.
The color chart assists professional aquarist and store employees by instructing them on what product they should use to correct any conditions indicated by the test results.
The Fresh and Salt water Professional Liquid Test Kit is in a heavy duty water proof storage case with a sturdy interior tray that can withstand the wet conditions associated with water testing.
This kit is extremely accurate, provides fast results and is easy to use when testing both fresh and saltwater.
For testing Tap water
For testing Fresh and Salt water aquariums.
For testing Pond water.
Tests :
pH 6.0-7.6 (37mL bottle)
High Range pH 7.4-8.8 (37mL bottle)
Ammonia(NH3/NH4) 0-8 ppm (37mL bottle x 2)
Nitrite (NO2) 0-5 ppm (37mL bottle)
Nitrate(NO3) 0-160 ppm (30mL bottle x 2)
GH General Hardness (37mL bottle)
KH Carbonate Hardness (37mL bottle)
AU$164.95 (Was AU$199.95 you save AU$35.00)
Earn 1650 points with this purchase
Copyright (c) 2016 The Aquarium Shop All rights reserved.