Fish Food /
Dainichi Cichlid Colour FX Small Sinking Pellet (3mm) 250g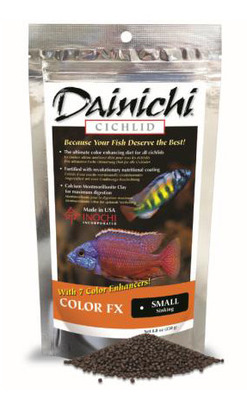 Item # 101497
Description:
Because your fish deserve the best *** ON SPECIAL EXP 10/2018 ***
Manufacturer:
Dainichi
Features
COLOR FX represents the most progressive advances in cichlid nutrition we have ever offered to cichlid hobbyists.
Utilizing Dainichi's advanced encapsulation technology to the fullest, this outstanding formula is packed with features found in no other food brand in the industry.
For starters, there are an unprecedented seven applications of highly nutritious as well as potent color intensifiers like shrimp, Antarctic krill, Cyclop-eeze®, NatuRose® (Haematococcus algae) and raw, un-cooked spirulina.
As in all Dainichi foods, there is calcium montmorillonite clay to simulate the natural ingestion of mineral particles and to bind and neutralize metabolic toxins.
Raw, fully potent vitamins, digestive enzymes and garlic ensure that the fish are healthy and free of internal parasites.
Furthermore, the scouring action of the clay enhances the rejuvenation of the digestive tract which when combined with only two sources of starch (flour as binder and wheat germ as a source of vitamin E and B) makes COLOR FX a superb choice of food for even the most delicate of herbivores.
Ingredients: White fish meal, wheat germ, wheat flour, shrimp, soybean meal, spirulina, krill, Cyclop-eeze®, brewer's yeast, calcium montmorillonite clay, powdered milk, vitamin mix, mineral mix, garlic, NatuRose® (Haematococcus algae), protease and natural gum.
AU$44.95
Earn 450 points with this purchase
Copyright (c) 2018 The Aquarium Shop All rights reserved.