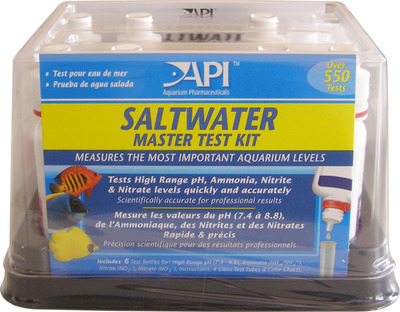 Item # APH09
Description:
Over 550 Tests
Manufacturer:
Mars Fishcare
Features
A complete kit for testing marine, reef and salt water aquariums.
Fast,Easy and Accurate.
The Saltwater Master liquid Test Kit provides information on how to perform each test,what the results mean, and how to correct any unsafe water conditions that may be detected.
The kit includes tests for: *High Range pH(7.4-8.8),* Ammonia(NH3/NH4),* Nitrite(NO2),* Nitrate(NO3).
The Saltwater Master test kit contains:
four glass test tubes with snap-tight caps in holders.
holding tray and test tube rack.
Test solution bottles for 4 saltwater tests.
Instructional booklet complete with information on water testing.
Water resistant computer calibrated color charts.
A complete kit for testing marine aquarium water. Tests water four ways to protect marine fish and invertebrates from dangerous water conditions. Kit includes tests for: High Range pH, Ammonia, Nitrite, Nitrate, plus four test tubes, holding tray and test tube rack. Fast, easy and accurate.
AU$59.95 (Was AU$58.30 you save AU$-1.65)
Earn 600 points with this purchase
Copyright (c) 2016 The Aquarium Shop All rights reserved.