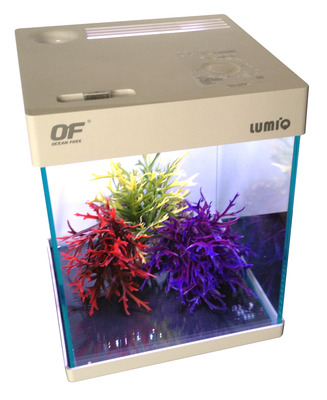 Item # LUMQ05
Description:
20 Litres
Manufacturer:
Ocean Free
Features
26 x 26 x 32cm (note does not include ornaments)
Touch-sensitive LED lighting system
4 stage multi-colour LEDs (30,000hrs Long Operating Life)
iPhone charging dock with speaker suitable for 3S,4,4S
During charging, you can play musical tracks or any sound files where LUMIQ passive speaker will be able to amplify the volume up to 1.5 times
Intelligent Interface for controlling the lights. Touch-Sense Technology, Button and Wheel with Brightness control.
12V Under-Gravel Micro Filtration
Makes a great Shrimp tank
Super Low Power Consumption. Typical Operating Power-11W
AU$229.95 (Was AU$274.95 you save AU$45.00)
Earn 2300 points with this purchase
Copyright (c) 2016 The Aquarium Shop All rights reserved.