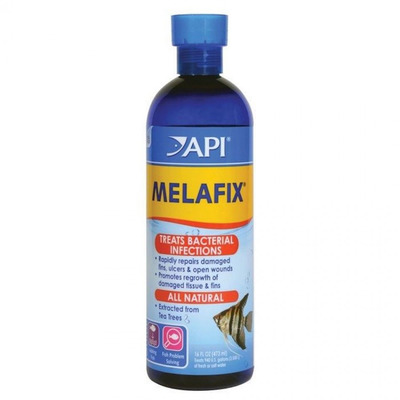 Item # APH07
Description:
Antibacterial Remedy for the Treatment of Aquarium Fish Diseases
Manufacturer:
Mars Fishcare
Features
5ml treats 40 litres of aquarium water
Melafix Liquid for aquarium fish
All natural Antibacterial remedy for the treatment of aquarium fish diseases,like fin & tail rot,cloudy eye,mouth fungus,fungus and promotes the regrowth of damaged fin rays and tissue
Rapidly repairs damaged fins and open wounds
Use when introducing new fish to the aquarium
Will not adversely effect the biological filter
Does not dis-color the water
Does not alter Ph levels
Safe to use with planted tanks
For fresh and saltwater aquariums
Do not use on fish intended for human consumption
Shake well before use
For best results remove activated carbon during treatment
As a disease or wound treatment:add 5ml for every 40 litres of aquarium water
Repeat dose daily for 7 days ,after 7 days make a 25% water change
Treatment can be continued if necessary
When adding new fish to the aquarium or when netting and handeling fish add 5ml for every 40 litres of aquarium water,repeat dose daily for 3 days
Active constituents:Cajeput Oil 9.23 g/L
Heals open wounds & abrasions, treats fin and tail rot, eye cloud, mouth fungus and promotes regrowth of damaged fin rays & tissue. Will not adversely affect the biological filter, alter the pH, or discolour water. Safe for reef aquariums and live plants
For use in fresh or salt water
AU$24.95
Earn 250 points with this purchase
Copyright (c) 2014 The Aquarium Shop All rights reserved.