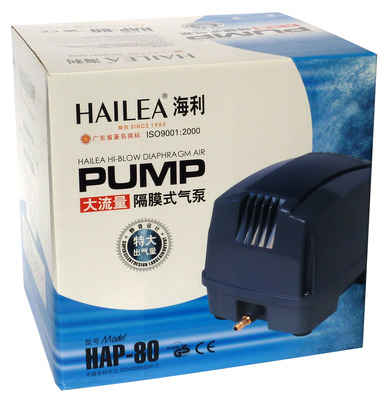 Item # HL36
Description:
Output 4800L/Hr (80 L/min). Genuine Hailea product with Australian plug and full warranty from our local suppliers.
Manufacturer:
Hailea
Features
20 outlet manifold included for connection to 4mm airline tubing.
Special artificial rubber to keep a steady air output and pressure
Advanced air-compressing system, damping system and multilevel muffler which is extremely low in noise
Compact with a long service life and low energy consumption
Aluminum alloy case for quick heat dissipation
Pump uses double flow bars to produce a large quantity of air and strong air pressure.
Non oil lubricated design to provide pure compressed air.
Professional air pump, specifically developed for high air output, even with deep water.
Excellent for breeding systems, waste water treatment systems with many outflow points.
Voltage:220-240V.
Power: 60Watt
Max Pressure: >0.036Mpa
Common Pressure: 0.012Mpa
Weight 6.5 Kg
Size: 210 x 185 x 170mm
AU$221.75 (Was AU$249.95 you save AU$28.20)
Earn 2218 points with this purchase
Copyright (c) 2018 The Aquarium Shop All rights reserved.