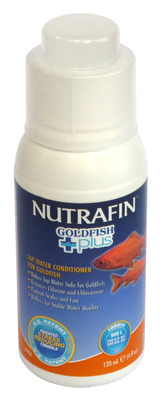 Item # FC102
Description:
Gold Fish Water Conditioner (A7966)
Manufacturer:
Hagen
Features
Treats 908 Litres
Tap water conditioner for Goldfish
Patented Stress-reducing formula.  Pure herbal extracts visibly reduce stress attibuted to transportation, handling and acclimatisation.  Nutrafin Goldfish Plus contains additional protective colloids to protect sensitive goldfish scales and fins as well as a special buffer to help support stable water quality.
Always condition water with Aqua Plus before adding tap water to the aquarium
Use Goldfish Plus for: adding new water, water changes, new tank set-ups, fish transport, cuts and Wounds
Makes tap water safe for Goldfish
Removes Chlorine and Chloramine
Protects scales and fins
Buffers for stable water quality
To remove chlorine - 5 ml treats 38 litres of tap water
To remove chloramine or to protect scales and fins - 10 ml treats 38 litres of tap water
Another Nutrafin quality product
Distributed by Hagen
Made in Canada
AU$5.20
Earn 52 points with this purchase
Copyright (c) 2014 The Aquarium Shop All rights reserved.