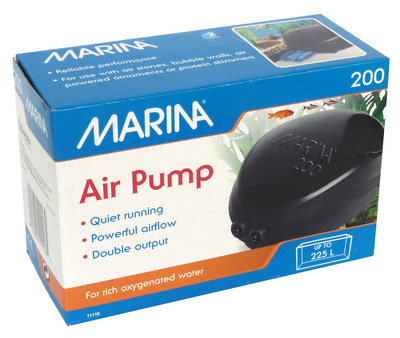 Item # MRN04
Description:
Twin outlet (11116)
Manufacturer:
Hagen
Features
Reliable Performance
For use with air stones, bubble wall, air powered ornaments or protein skimmers
Quiet running
For rich oxgenated water
Powerful airflow
Sound dampening pump cover
Soft rubber feet suppress vibration
Durable, long lasting Tensile FLEX diaphragm
2 year limited warranty against defects for normal use and service, excluding replaceable rubber parts i.e. diaphragms
For aquariums up to from 125 to 225 litres
General usage: can power 6 2.5cm (3 x 2) airstones in 45cm of water depth.  Note this is a general reference and performance will vary depending on number and air valves used.
4 watts
1.5L/min (90L/hr) x 2 output.  3L/min total.
IPX4 rating
AU$28.50
Earn 285 points with this purchase
Copyright (c) 2013 The Aquarium Shop All rights reserved.