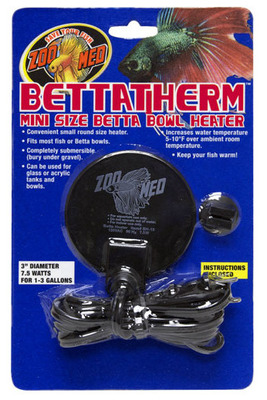 Item # ZM366
Description:
for Betta Fish (Siamese Fighter fish)
Manufacturer:
Zoo Med
Features
Keeps your fish warm!
8.5cm dia disk shape.
Convenient small round sized heater.
Fits most fish or Betta bowls.
Completely submersible (place under the gravel).
Can be used with glass or acrylic tanks and bowels.
Increases water temperature 5-6 degrees over ambient room temperature.
Right angle cord attachment allows for easy heater placement in the bottom of the tank without straining the power cord.
AU$36.20
Earn 362 points with this purchase
Copyright (c) 2013 The Aquarium Shop All rights reserved.