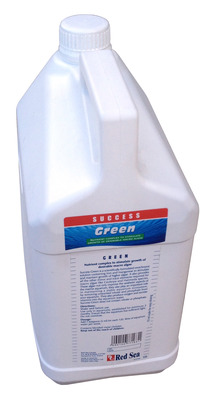 Item # RED46a
Description:
Nutrient complex to stimulate growth of desirable macro algae *** ON SPECIAL TO CLEAR ***
Manufacturer:
Red Sea
Features
Marine Success Green is scientifically formulated enrichment solution, containing iron and manganese to stimulate and maintain growth of higher algae.
It also provides all the other minor and trace elements required for macro algae like Caulerpa and Halimeda species.
These algae not only improve the aesthetic aspects of the marine aquarium, they also play an important role in maintaining a stable aquarium ecosystem, by removing unwanted nitrate and phosphate from your aquarium. They also produce oxygen and secrete vitamins into the aquarium water.
Marine Success Green does not contain nitrate or phosphate.
AU$126.65 (Was AU$186.15 you save AU$59.50)
Earn 1266 points with this purchase
Copyright (c) 2013 The Aquarium Shop All rights reserved.