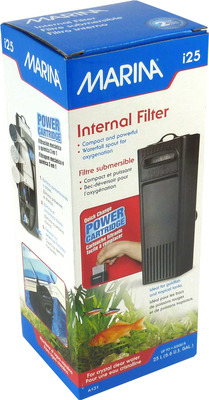 Item # PA62
Description:
Suitable for up to 25 litre tank (A131)
Features
For crystal clear water
Compact and powerful
Waterfall spout for oxygenation
Ideal for goldfish and tropical tanks
4 suction cups and mounting bracket allows it to be hung and/or placed against a flat surface inside your tank.
Note: 2 suction cups are on the filter and the other 2 are in a separate bag with the mounting clips.
Uses 3 in 1 mechanical and chemical filtration power cartridge which removes captures floating debris, removes toxic ammonia and removes pollutants and odours. Renew cartridge every 4-6 weeks.
Size: 15.5cm high x 6.5cm wide x 4-5cm depth (excl bracket)
12 month warranty
AU$21.85
Earn 218 points with this purchase

Marina Internal Aquarium Filter i110
Suitable for up to 100 litre tank (A301)

Marina Internal Aquarium Filter i160
Suitable for up to 160 litre tank (A306)
Copyright (c) 2018 The Aquarium Shop All rights reserved.