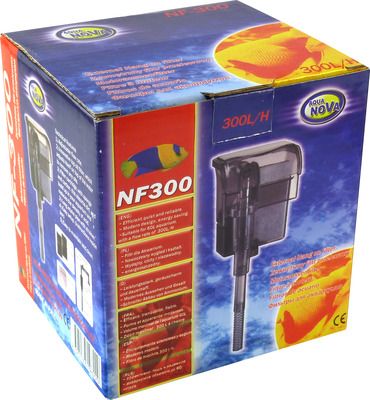 Item # NF-300
Description:
300 L/Hr Hangon filter
Manufacturer:
Aqua Nova
Features
Includes filter cartridge
For saltwater and freshwater aquariums
Easy setup
Easy to maintain and clean
Innovative top oil filter, which adjusts itself on top of the water to remove any oils
Long intake pipe with strainer
Note: This model has no flow control valve setting as stated on the packaging.
External hangon filter
Multiple Layer filtration
Physical - sieve the large particles with filter sponge
Chemical - absorb bad smell and dirty colours with active carbon
Bio-chemical - reduce the density of the acid and provide with a large filtration surface.
The components of this product are suitable for a high density aquarium
Power usage: 3 watts
Size of filter (without inlet pipe): 11h x 8.5 x 8.5cm
Recommended aquarium size: 60 Litres
Made in China
12 month warranty
AU$13.65 (Was AU$17.95 you save AU$4.30)
Earn 136 points with this purchase
AU$22.05
Was AU$29.95
Saving AU$7.90


Aqua Nova Aquarium Hang On Filter NF-450
450 L/Hr Hangon filter
Copyright (c) 2018 The Aquarium Shop All rights reserved.