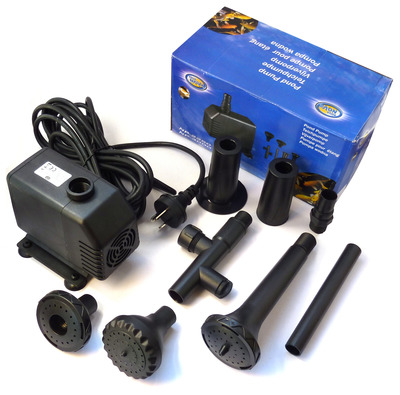 Item # NP-2250
Description:
Aquarium water pump - 2250L/Hr
Manufacturer:
Aqua Nova
Features
Multi functional - pumping and fountain
Is designed for pumping and filtering water in fountains, cascades, ponds and all garden water features.
Pump has a ceramic shaft so can be used in salt water as well.
Must be completely submersed in water.
7 piece fountain kit.
12 month warranty
Power consumption: 36 watts
Flow rate: 2250 l/hr (adjustable flow control with attachment)
Head height: 2.1m
Length of power cable: 5 metres
Power: 240 volts
Dimensions: 8.5cm high x 12.5cm long x 6cm wide (without bracket).  Bracket dimensions: 9.5cm x 8.5cm x 1.5cm approx incl 4 suction cups
AU$59.95
Earn 600 points with this purchase
Copyright (c) 2013 The Aquarium Shop All rights reserved.