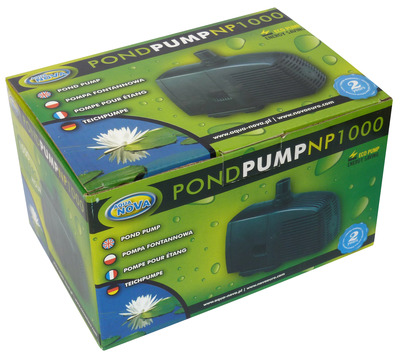 Item # NP-1000
Description:
Aquarium water pump with fountain attachments - 1000L/Hr
Manufacturer:
Aqua Nova
Features
Multi functional - pumping and fountain
Is designed for pumping and filtering water in fountains, cascades, ponds and all garden water features.
Pump has a ceramic shaft so can be used in salt water as well.
Must be completely submersed in water.
With 3 output attachments: 12mm, 15mm and 18mm dia 
Comes with coarse filter sponge: 53mm x 50mm x 65mm
Power consumption: 16 watts
Flow rate: 1000 l/hr  
Head height: 1.8m
Length of power cable: 3 metres
Size (pump unit without attachments): 13x6x7.5cm height
12 month warranty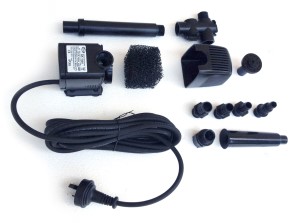 AU$39.95 (Was AU$43.90 you save AU$3.95)
Earn 400 points with this purchase
AU$299.95
Was AU$379.95
Saving AU$80.00


Aqua Nova Submersible Pond Pump NJP-15000
Aquarium water pump - 15000L/Hr
AU$339.95
Was AU$399.95
Saving AU$60.00


Jebao Submersible Pond Pump JFP-20000
Aquarium water pump - 20000L/Hr
AU$379.95
Was AU$429.95
Saving AU$50.00

Out of stock

Aqua Nova Submersible Pond Pump NJP-25000
Aquarium water pump - 25000L/Hr (Packaging may vary.)
Copyright (c) 2016 The Aquarium Shop All rights reserved.