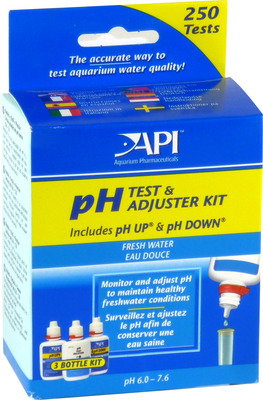 Item # APH23
Description:
Includes pH UP and pH Down. 250 tests
Manufacturer:
Mars Fishcare
Features
Reads pH 6.0-7.6
3 bottle kit
Monitor and adjust pH to maintain healthy freshwater conditions
Fish require a specific pH level to thrive.  However, pH in an aquarium can fluctuate due to fish waste, addition of tap water and the build-up of natural acids.
This Kit contains:
3 liquid dropper bottles with child-resistant safety caps, easy-to-read instructions with information on how to test and how to correct unsafe water conditions, colour chart and glass test tube with snap-tight cap.
AU$17.85
Earn 178 points with this purchase

Aquarium Pharmaceuticals API Freshwater GH and KH Test Kit
General Hardness and Carbonate Hardness
AU$47.95
Was AU$54.95
Saving AU$7.00


Aquarium Pharmaceuticals API Freshwater Master Test Kit
Over 800 Tests

Aquarium Pharmaceuticals API Freshwater pH Test Kit
250 Tests. pH6.0 to pH7.6
Copyright (c) 2014 The Aquarium Shop All rights reserved.