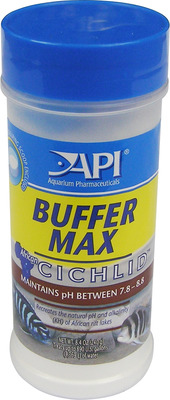 Item # APH313
Description:
Treats up to 3,369 Litres (#460C)
Manufacturer:
Mars Fishcare
Features
Recreates the natural pH and alkalinity (KH) of Lake Victoria, Malawi and Tanganyika.  Contains a special blend of carbonates, bicarbonates and borates that will increase KH by about 143mg/L in 38 Litres.  Use in aquariums stocked with African cichlids originated from African rift lakes.
Maintains pH between 7.8 and 8.8.
Free flowing powder.
Measuring scoop included.
AU$19.25
Earn 192 points with this purchase
Copyright (c) 2018 The Aquarium Shop All rights reserved.