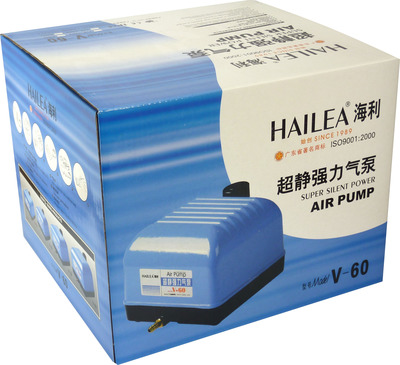 Item # XL35
Description:
Output 3600L/Hr (60L/min)
Manufacturer:
Hailea
Features
Adopts high alumininum alloy to shape the case, double damping system and noise-absorbing function, high performance and low in noise.
1 x 8mm outlet (inside diameter).
Complete with 10 outlet plastic manifold/outlet divider including small length of connecting tubing (approx 120mm length).
Double flow bars to produce a large quantity of air and strong air pressure.
Non-oil lubricated design to provide pure compressed air.
Unique structure, quick in heat dissipation.
Power consumption: 35W
Pressure: > 0.03MPa
10 Outlets
Weight: 5.6Kg
Dimensions: 245x240x200mm
AU$178.65
Earn 1786 points with this purchase
Hailea V-20 Aquarium Air Pump
Output 1200L/Hr (20 L/min)

Hailea V-30 Aquarium Air Pump
Output 1800L/Hr (30 L/min)
Copyright (c) 2014 The Aquarium Shop All rights reserved.