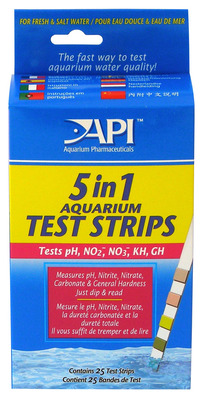 Item # APH303
Description:
Pack of 25. Quick Testing Strips
Manufacturer:
Mars Fishcare
Features
5 in 1 Aquarium Test Strip.
Tests pH,NO2,NO3,KH and GH.
Measures pH, Nitrite, Nitrate, Carbonate and General Hardness.
In order for fish to thrive, water conditions in the aquarium need to be the same or very similar to those found in nature.
This kit measures 5 of the most important aquarium conditions.
Improper levels can cause fish stress, which can lead to illness and death.
Just dip and read.
Contains 25 Test Strips.
Made in the USA.
Directions:
Dip directly into your aquarium and compare the colour against the highly precise color charts
Includes information on how to correct unsafe water conditions
Includes 25 strips
For fresh and salt water
AU$34.95
Earn 350 points with this purchase

Aquarium Pharmaceuticals API Test Strips 5 in 1
4 pack. Quick Testing Strips

Aquarium Pharmaceuticals API Test Strips pH
Tests wide range pH 6.0-9.0 25 Tests (#33F)
Copyright (c) 2018 The Aquarium Shop All rights reserved.