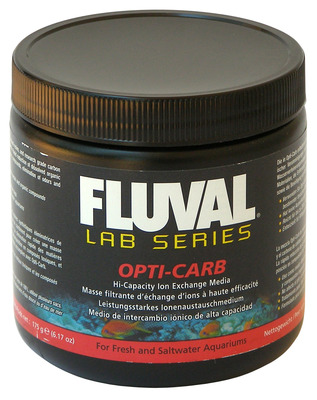 Item # HC06
Description:
Filter media (A-1504)
Manufacturer:
Hagen
Features
Fluval Lab Series Opti-Carb.
For Fresh and Salt water aquariums.
Hi-capacity Ion Exchange Media.
Opi-Carb's mixture of ion-exchange and synthetic organic removal resins, and research grade carbon combine to create a powerful adsorbent water polishing media.
Rapid reduction of dissolved organic matter, removal of proteins before they break down into toxic compounds, elimination of odors and discoloration can all be accomplished with Opti-Carb.
Use as everyday filter media or for removal of specific toxic metals and organic compounds.
Does not effect pH, KH and general hardness.
Includes filter media bg
Treats up to 189 litres, for larger aquariums use multiple bags.
Formulated for reef aquariums, excellent for fresh and salt water aquariums.
Made in Canada.
Suggested Media Placement 105, 205, 305, 405, 104, 204, 304, 404, 103, 203, 303, 403: Mid, or Upper Level Media Baskets FX5: Bottom or Middle Media Baskets
AU$22.70
Earn 227 points with this purchase
Copyright (c) 2015 The Aquarium Shop All rights reserved.