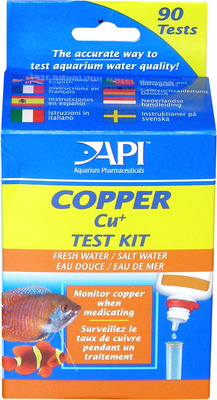 Item # APH230
Description:
90 tests. For Fresh and Saltwater (#65L)
Manufacturer:
Mars Fishcare
Features
Copper test kit.
For Freshwater and Saltwater aquariums.
90 Tests.
Fast, Easy and Accurate.
Distributed by Aquarium Pharmaceuticals,inc.
Copper, a common treatment for many parasitic infections,must be monitored carefully in a aquarium or pond.
The copper level can drop to low for the treatment to be effective,or can increase to a point that is detrimental to fish health.
Copper may even be present in your tap water.
This kit allows you to easily and accurately measure the copper level and maintain a healthy aquarium for your fish.
This kit contains: Dropper bottle for accurate dispensing of test solution.
Easy-to-read instructions and color chart.
Non-staining-glass test tube with snap-tight cap.
Measures Copper to ensure a healthy aquarium Copper is a common treatment for many parasitic infections, and should be monitored in an aquarium Tests Copper levels from 0 to 4mg/litre or parts per millions (ppm) For freshwater and saltwater aquariums Kit includes 90 tests
AU$19.70
Earn 197 points with this purchase
Copyright (c) 2014 The Aquarium Shop All rights reserved.